Good Fabric is built on 2 pillars: ethics and sustainability of its productions. We therefore produce for our customers textile collections and accessories in the respect of Men and the environment, within our certified channels.
Eco-friendly production
AT GOOD FABRIC WE PROVIDE AN ETHICAL MANUFACTURING SOLUTION THAT'S TRACED AND CERTIFIED THROUGH OUR CHANNELS.
We control our crop production channels from the raw material to the manufacturing workshop.
We design and make the final products with our clients by getting involved in every stage, from design to delivery.
Read more
In terms of organic-approved products, all the production and processing stages are audited and certified.
The GOTS certification is based on environmental (no GMOs, pesticides, dye toxicity, reusing wastewater etc.) and social criteria.
Our industrial partners comply with international social standards including the SA8000 certification.
Read less
Traceability
100% traced and certified from the field or farm to your warehouse
Our approach is to go back up our partner channels to know each step, each entity, from the culture of the raw material to the finished product.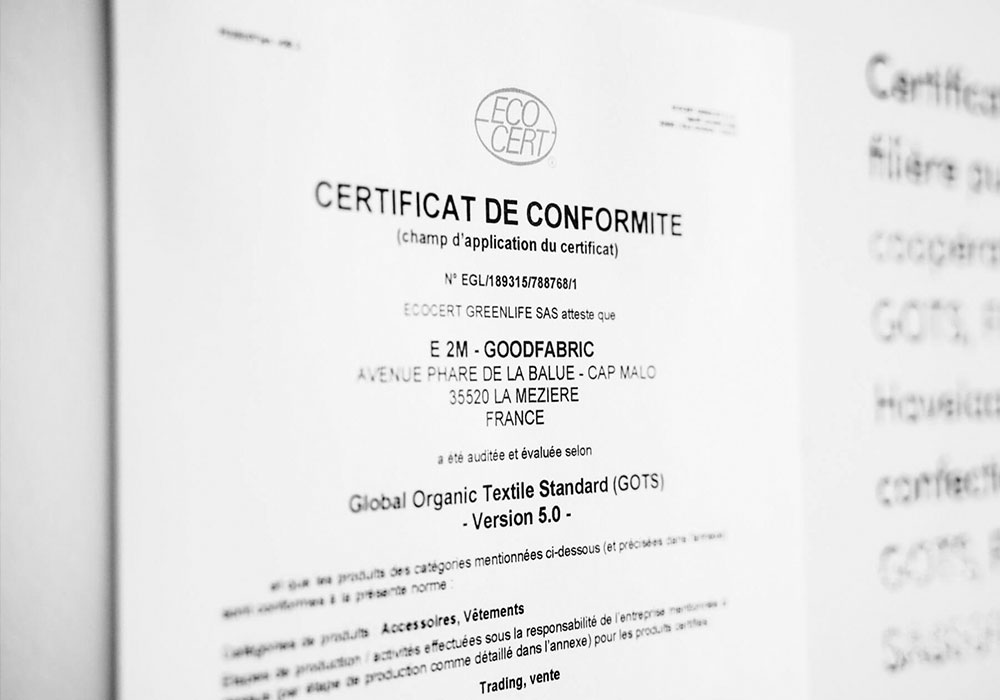 Certifications
We develop GOTS, RWS, Oekotex, Flocert, etc. certified products. To certify the whole production chain is the condition of traceability.

Read more
Good Fabric is GOTS-certified
GOOD FABRIC #189315 licence N°
International standard for organic textile production. It oversees environmental aspects of production as well as social and organisational aspects.
Our fairtrade cotton is certified by Flocert subject to your Flocert certificationGOOD FABRIC #FLO ID 4081 certification N°
FLOCERT /International certification for fairtrade / for products that comply with economic, social and environmental fairtrade requirements.

Read less
Commitments
GOOD FABRIC signatory of the GLOBAL COMPACT
International convention based on 10 ethical principles and 17 sustainable development goals by the United Nations.
Communication on Good Fabric's progress
GOOD FABRIC is friends with the Textile Exchange
International non-profit organisation founded in 2002. Textile Exchange provides access to data and tools required for the textile industry to implement more eco-friendly methods faster.